Vörulýsing
Påhoj is an award-winning bicycle seat that turns into a pram in one second. It is designed for children between 9 months and up to 4 years or with a maximum weight of 22 kg or a maximum height of 110 cm, whichever comes first.
Påhoj has a lightweight chassis with adjustable telescopic handle. For easy storage and to optimize the size when you ride, the rear legs can be folded in, which makes Påhoj almost half as big. The perforations in the back provide ventilation for the child and prevent wind resistance when cycling with an empty seat.
Påhoj comes with an adapter for fixing to the bicycle frame and is therefore not dependent on package holders. The adapter is suitable for bicycles and approved for round seatposts with a diameter of 28-40mm. Due to the strength properties, the adapter should not be mounted on bicycle frames made of lightweight material such as carbon fiber.
An adapter is included.
Specification
Weight capacity: 22 kg
Weight: 6.75 kg
Collapsible: Yes
Handlebar: Telescopic adjustment, extendable to 104 cm
Bike Adapter
Frame mounted: Yes
Seat belt: Five points
Front wheel: 360 ° swivel lock
Rear wheels: Suspension
Bicycle adapter included: Yes
Color: Black
Approved bicycle frames: Round frame tubes, 28-40 mm / dm. No carbon fiber frames.
Certified by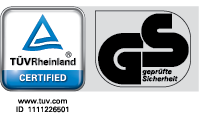 Security
Påhoj can carry a child up to 22 kg  and meets EU safety standards for both child bicycle seats (EN14344) and prams (EN1888). These standards state all sizes and dimensions for a safety-approved product and the license also includes thorough tests at certified institutes in Germany and Sweden. The standards have been implemented from the beginning and tested and verified throughout the product development process.